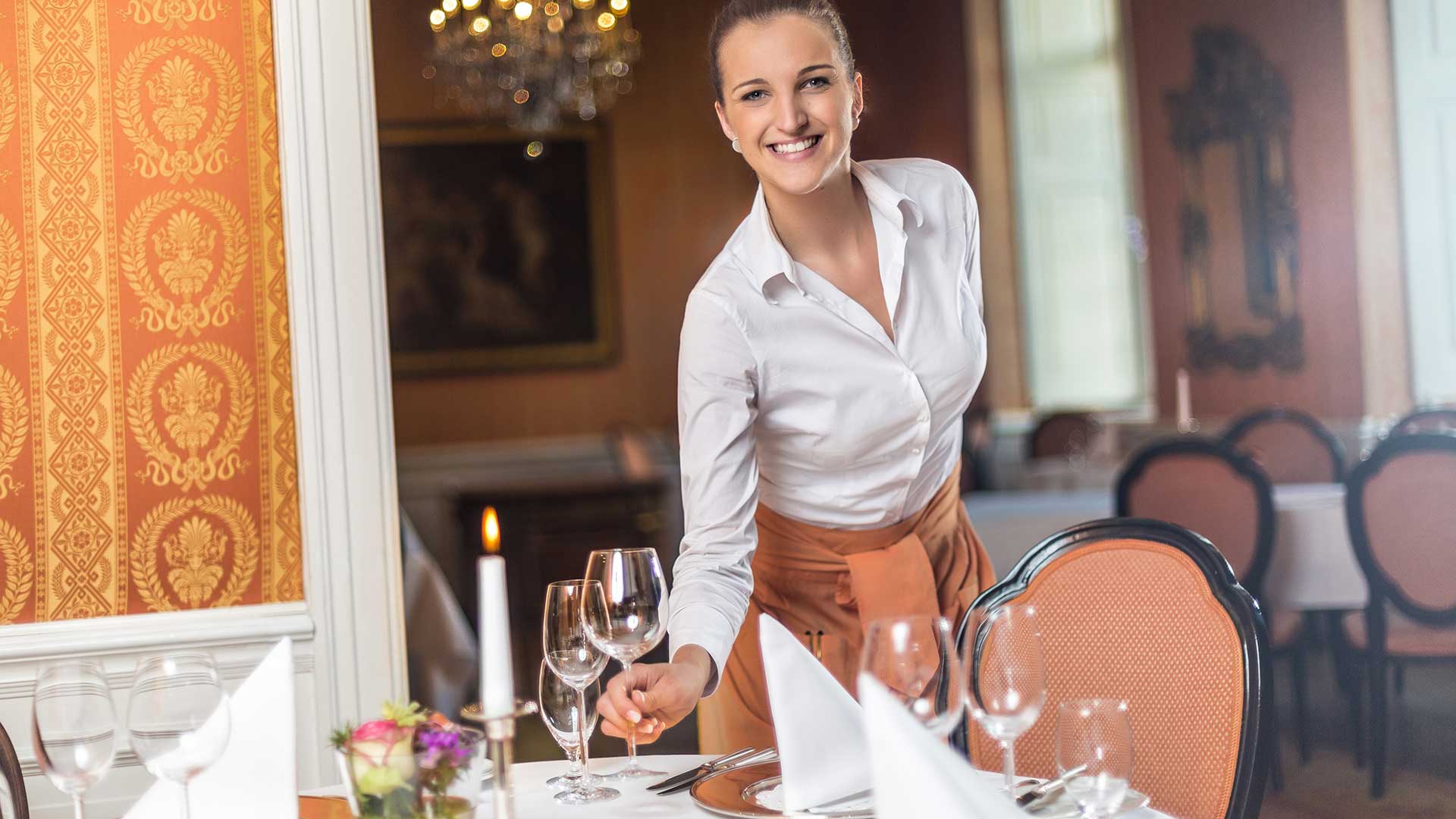 Become part of our young, motivated team
9

a pleasant working atmosphere in a privately run 4-star hotel in its third generation

9

a secure job with regular working hours

9

an employment relationship in which the appreciation of employees is writ large

9

Vacation and Christmas bonus

9

an open-ended employment contract

9

electronic time recording

9

capital-forming benefits
Küchenteam - Chef de Partie (m/w/d)
Zur Unterstützung unseres Küchenteams:
Ihre Aufgaben:
eigenverantwortliche Bestellung der Waren für den Posten
Produktion der Speisen für das tägliche Geschäft
Einhaltung und Umsetzung des HACCP Konzepts
Anleitung und Anweisung von Auszubildenden
Ihr Profil:
Sie kochen gern in einem kleinen Team
Themen wie Nachhaltigkeit und Kreativität sind Ihnen wichtig
Sie sind sicher mit den Vorgaben zu HACCP und Hygiene in der Küche
In Festanstellung mit geregelte 5-Tage Woche und freien Tagen am Sonntag und Montag.
Reception Team - Receptionist (m/f/d)
To support our reception team:
Receptionist (m/f/d)
Your tasks:
Guest services
Fulfill guest requests and inquiries
Guest check-in and check-out with related activities.
Active sale of the entire range
Receiving and processing event requests
Invoice creation
Guidance and instruction of trainees
Your profile:
Completed vocational training, and ideally initial work experience in a similar position
You like to work in a small team
Independent and self-reliant way of working
Positive charisma and a confident appearance
High guest and service orientation
In permanent position with regulated 5-day week. Alternatively, a part-time solution (e.g. 3- or 4-day week) is also possible.
Housekeeping Team - Chambermaid (m/f/d)
To support our housekeeping team:
Chambermaid / Roomboy (m/f/d) for the hotel floor
Your tasks:
Hotel room maintenance and cleaning
Maintenance and cleaning of the public areas in the hotel
Your profile:
You have professional experience or
You are a career changer and are open to a new profession.
You enjoy working in a privately owned family business
You like to work in a team
Permanent position with family-friendly hours 25 – 30 hours / 5-day week.
Alternatively, part-time employment (e.g., 3- or 4-day week) is also possible.
Training at the Wilkinghege
Sie haben die Schule erfolgreich abgeschlossen, sind verantwortungsbewusst und flexibel?
Dann bewerben Sie sich bei uns!
Wir suchen ab Sommer 2023:
Auszubildende Köche (m/w/d)
Auszubildende Restaurantfachleute (m/w/d)
Auszubildende Hotelfachleute (m/w/d)
Auszubildene

Hotelkaufleute

(m/w/d)
Kaufleute im berufsbegleitendem Studium zu Betriebswirten (VWA) Bachelor of Arts (m/w/d)
Wir bieten eine vielseitige, fundierte und abwechslungsreiche Ausbildung.
Ausbildungsbeginn ist jeweils der 1. Februar und der 1. August eines Jahres.
If you would like to be a part of our team in the future,
then we look forward to receiving your meaningful application to: [email protected]
Your team Schloss Wilkinghege