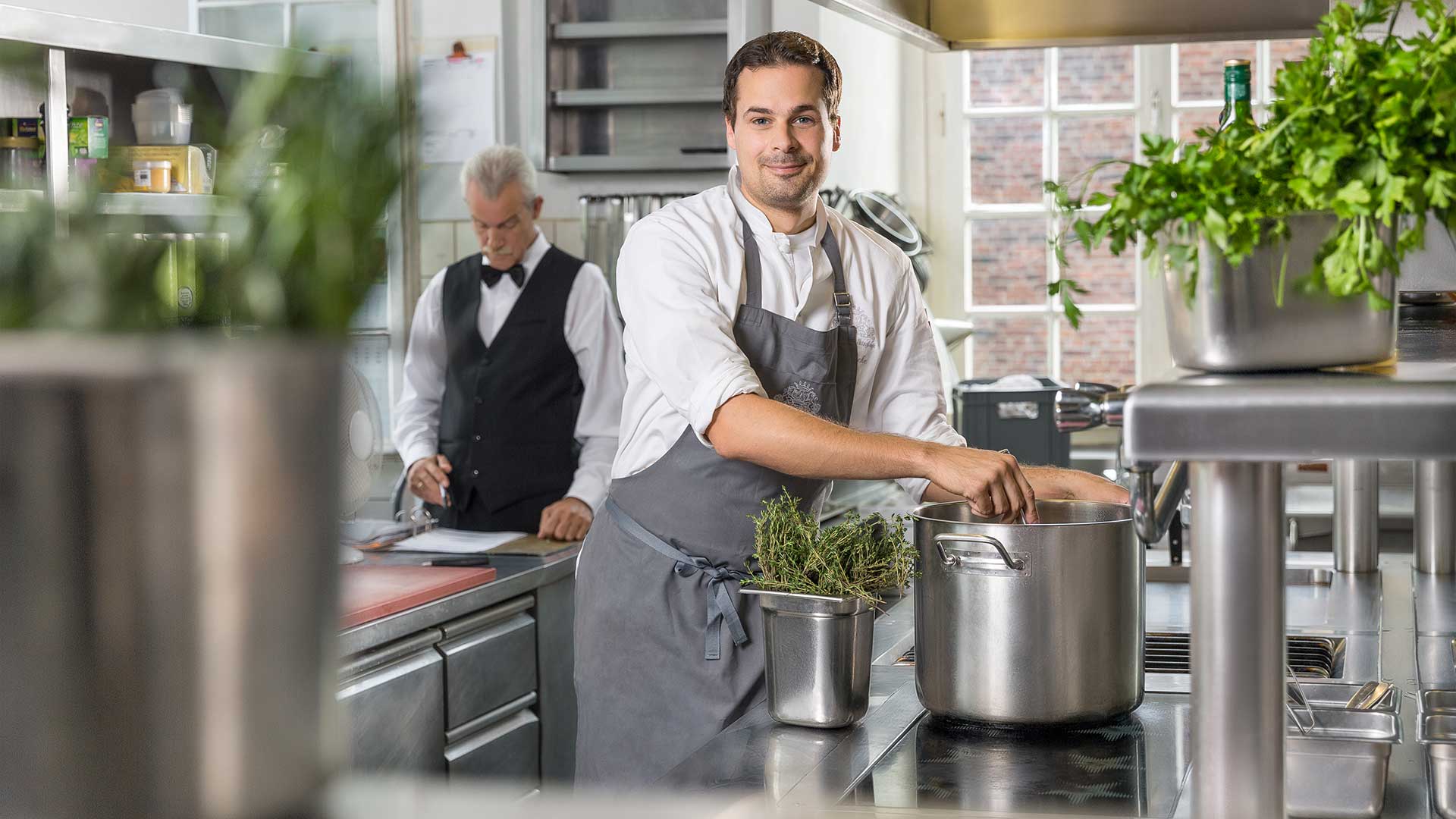 Since November 01, 2011 the white brigade at Schloss Wilkinghege is led by Mr. David Reineke, who learned his trade at Schloss Wilkinghege from our longtime chef (Martin Löffler †).
After his apprenticeship, Mr. Reineke gained further experience at the Romantikhotel Hof zur Linde (Münster-Handorf) as well as at the star restaurant "La Vie" in Osnabrück. After his stop in Spain, his path led him back to Münster to the Mövenpick Hotel and then back to the Wilkinghege.
Sous chef Gilles Vanheygen completed his training as a chef and supplemented it with additional training as a patissier and chocolatier in Belgium. After four years of professional experience, including at the Dôme star restaurant in Antwerp, he initially took up his position as a cook at the Wilkinghege. Since this year we are happy to have promoted him to sous chef in our house.
Chef-pâtissier Pascal Bombardelli has been adding a particularly refined touch to our sweet dishes for over 18 years. Mr. Bombardelli trained in Lorraine, France, as a pâtissier, confiseur, glacier, chocolatier and traiteur. After five years at "Lenôtre" in Paris, his path as a chef-pâtissier led him to Germany, where he worked in various Michelin-starred restaurants, among others.
Together they design the seasonally changing menu, which offers our guests a contemporary cuisine that is not only characterized by classic dishes. The preference for fresh and local products, such as back and leg of local fallow calf is reflected in our à la carte menu as well as in the banquets.